Put A "Rap" On Your Pet's Indoor Pee Problem With The Most Innovative "Belly Band" Available.
Use Code "RapOnPee" & Get Free Shipping On $50
New! pRap 2X 40 Pad Bundle & 200 Pad Bulk Saver
Tired of his daily potty challenges? Stressed out over constant mess 💦 on your floor, carpet, & upholstery?

Seeking a ⭐️better solution⭐️ to locking ⛓ him in a crate, saggy diapers, bulky belly wraps, unsanitary pads, or "miracle" enzyme cleaners?

Dogginz© makes it easy to Potty train your new 🐶 puppy, help an adult with a propensity for indoor marking, or a senior struggling with incontinence issues.

End His Shame. Stop Your Frustration. Put a "Rap" On Pee, and your problem is solved!** 💪🏽
It's Time To Put A "Rap" On:
Potty training your precious fur baby

Poor fitting diapers that look terrible and fall off

Endless marking, adult incontinence, and daily accidents inside your home

Worrying about leaving him alone & what you will find when you return

Keeping him confined to inhumane crates and small spaces

"Reusable" dog wraps and diapers that require washing and laundering

Nasty smelling pee pads and "reusable" diaper bands

Environmental Waste From Bulky Diapers, Wraps, & Pads
Peace Of Mind For You!
"Peece" For Him.
With Dogginz, you will enjoy peace of mind, knowing your loyal companion is free to prowl the house -- without fouling it.

Gone will be the anxiety over indoor potty accidents, the need to keep him under constant surveillance, the guilt over crating him, and the sadness that follows scolding him – not to mention the nasty odor and chore of cleaning the mess.

Instead, you will have a happy dog, a dry, clean-smelling home, and reduce environmental waste by a factor of 10 💚 .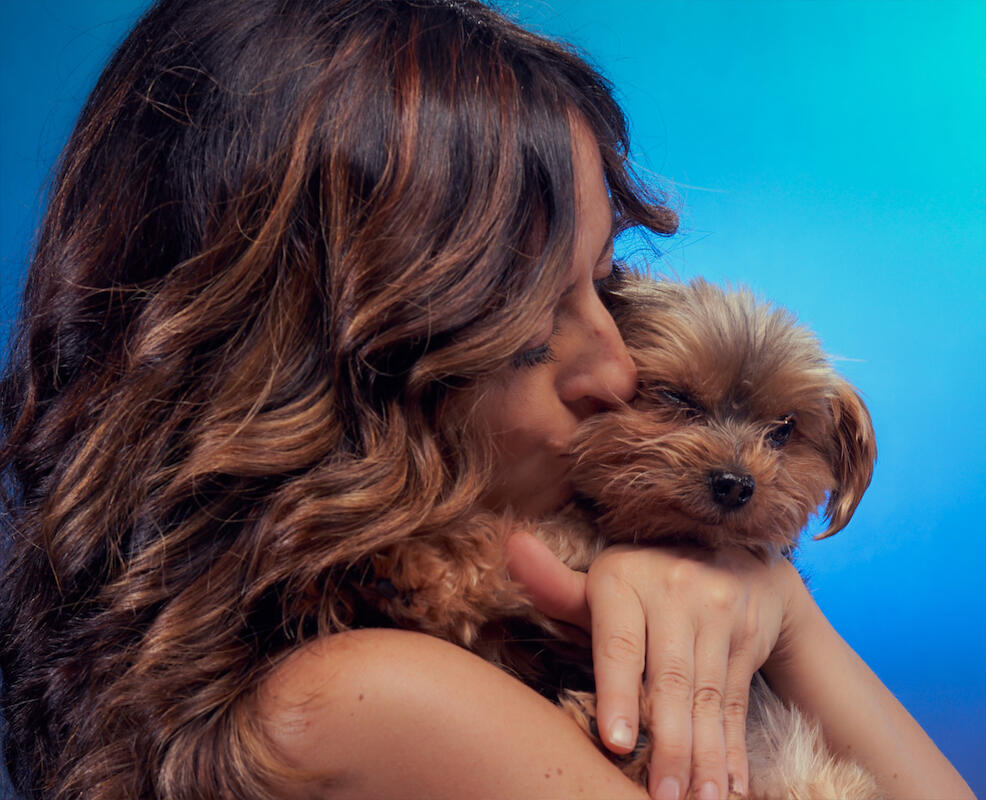 *Peece" is "the relief felt after peeing" - Urban Dictionary

Better Form & Function.
The Dogginz difference starts with the unique, anatomically correct, fully-adjustable, and completely comfortable Silicone p-Rap™.

Every aspect of the innovative, patent pending design was relentlessly refined and expertly engineered to perfectly fit your dog and capture his pee.

The p-Rap is made from premium, ultra soft LSR Silicone so it's hypoallergenic, easy to clean, comfortable for him to wear, and doggedly durable!
---
Better For Our Environment
---
Less Waste by a factor of 10! The reusable p-Rap and super absorbent p-Pad™ combine to reduce environmental waste by 10 X when compared to other pee pads, pee wraps, belly bands, and dog diaper products.
View The Environmental Benefits.
---
Better Absorbent p-Pads.
Our skin-soft, super absorbent, dry-wicking, p-Pad inserts are made to the highest standards of quality, comfort, and super absorbency. They always stay in just the right place, keeping him dry and happy. It's like having a disposable pee pad that moves with your pup!
---
Key Dogginz Benefits:
Eliminate Indoor Marking

Control Adult Incontinence

Potty Train New Pups In Record Time

Cut Environmental Waste By 10X

Super Absorbing p-Pads Hold One Elimination & keep him Dry

Anatomically Correct & Form Fitting For Superior Comfort

Super Soft & Hypoallergenic Silicone

You Can Take Him Everywhere

Silky Smooth On Hair & Skin

Easy To Use, Empty, & Clean

Stylish, Fashionable & Functional

Ultra Reusable & Durable

Patent Pending Design & Utility

Veterinarian Approved

Satisfaction Guaranteed
Unsolicited Testimonials From Actual Dogginz Customers Experiencing "Peece" For Themselves!
"OH MY GOD! We LOVE it! The pRap is such an excellent product! I can't believe how EASY it is to use. Putting it on him and removing it is a cinch. Removing a used pad and inserting a new pad is also a cinch. Washing it is, well, you guessed it: a cinch! :-)"❤️❤️❤️ - Kat

"I have three chihuahuas and your belly bands are the only ones I have found that work." - Emily

"Thank you very much for making Dogginz. I really believe in your product."❤️👍🏻😊 -Therese

"Dogginz products are awesome! My boys don't even know that they're wearing a pee wrap anymore." - Lannette

"I spent months testing many different styles and brands. If I had one of your silicone belly bands, you would have had me from the start." 😘 -Kathryn

"OMG, I love ❤️ this dog wrap! It is so easy to use, and actually looks good on my little buddy. Thank You!" -Michele

"Dogginz looks 😍😍😍 much better than a fabric belly band with sanitary pads. You should feel good about being able to bring a product like this to market. It's a tough problem to solve. "- Jason
Read More On Amazon
NOTE: The Small Fits Male Dogs Weighing 8-18 lb With A 12" - 16" Waist. Please Check Your Guy Before Ordering. More Sizes Will Be Available After Our Kickstarter - Please help spread the word!
More Sizes, Dogginz Sensor, & Mobile App - Kickstarter 2022!
When He Goes, You'll Know.
The upcoming Dogginz p-Rap "wearable" adds app-enhanced sensor technology to take housebreaking and potty training into the smart phone age.

The Dogginz p-Sensor constantly monitors your pet's potty habits, sending instant notifications and alerts to your phone and assigned caregivers via the Dogginz app, whenever pee is detected.

With the Dogginz wearable, you'll have more freedom knowing his routine and enjoy peace of mind while apart.

Soon, you'll both be on the same page -- and the same potty schedule -- achieving the consistency so critical to successful housebreaking.

All the while, you'll see in real time exactly how your puppy is doing in waiting for his next potty break outside.
---
Click To Play Dogginz "p-App"
You Can Help Us Put A "Rap" On Pee!
Dogginz "Rap On Pee" By JSO
Pre-Kickstarter Offer
The Dogginz app-enhanced sensor technology is ready. The pRap "wearable" will launch on Kickstarter in early 2022 to raise funds for mass production.
Our customers will receive a secret discount code for a reduced price wearable when our kickstarter campaign goes live. It's like getting a free p-Rap to use now, so there is no risk or reason to wait.

Be first in line when we go live on Kickstarter. Make sure to join our mailing list and stay connected for the latest about our technology.

We'll Bark Back!
Join our elite club of smart pup parents who put a "Rap On Pee"
We promise to keep your information private. We will never spam, sell, or share your contact information. See our policy section for more information

Tail Wag Guarantee
The Dogginz p-Rap & inserts will help you eliminate your dog's indoor pee problems with less hassle, less waste, and less mess, or your money back.
© 2022 Peece Out, LLC. Dogginz Products Are US and International Patent Pending. Rap On Pee, Holster His Squirt Gun, Peece Out, Dogginz, p-Rap, pee-wRap, p-Pod, Dog The Pee, Puppy To Potty Trained, All Cuddles No Puddles, No Puddles More Cuddles, Dry Lift, "Tail Wag Guarantee, are Trademarks of Peece Out, LLC.
Environmental impact estimates were made using the Environmental Paper Network Paper Calculator Version 4.0. For more information visit www.papercalculator.org.
WEBSITE DISCLAIMER
Last updated [02/08/2021]
INTRODUCTION
The information provided by Peece Out LLC ("we," "us" or "our") on dogginz.com (the "Site") is for general informational purposes only. All information on the Site is provided in good faith, however we make no representation or warranty of any kind, express or implied, regarding the accuracy, adequacy, validity, reliability, availability or completeness of any information on the Site.
Under no circumstance shall we have any liability to you for any loss or damage of any kind incurred as a result of the use of the site or reliance on any information provided on the site. Your use of the site and your reliance on any information on the site is solely at your own risk. This disclaimer was created using Termly's disclaimer generator.
EXTERNAL LINKS DISCLAIMER FOR WEBSITE
The Site may contain (or you may be sent through the Site links to other websites or content belonging to or originating from third parties or links to websites and features in banners or other advertising. Such external links are not investigated, monitored, or checked for accuracy, adequacy, validity, reliability, availability or completeness by us.
We do not warrant, endorse, guarantee, or assume responsibility for the accuracy or reliability of any information offered by third-party websites linked through the site or any website or feature linked in any banner or other advertising. We will not be a party to or in any way be responsible for monitoring any transaction between you and third-party providers of products or services.
DISCLAIMER FOR WEBSITE
The Site cannot and does not contain medical, legal, or healthcare advice. The information is provided for general informational and educational purposes only and is not a substitute for professional advice.
Accordingly, before taking any actions based upon such information, we encourage you to consult with the appropriate professionals. We do not provide any kind of medical, legal, or healthcare advice. The use or reliance of any information contained on this site is solely at your own risk.
TESTIMONIALS DISCLAIMER FOR WEBSITE
The site may contain testimonials by users of our products and/or services. These testimonials reflect the real-life experiences and opinions of our users. However, the experiences are personal to those particular users, and may not necessarily be representative of all users of our products and/or services. We do not claim, and you should not assume, that all users will have the same experiences. Your individual results may vary.
The testimonials on the Site are submitted in various forms such as text, audio and/or video, and are reviewed by us before being posted. They appear on the Site as given by the users, except for the correction of grammar or typing errors. Some testimonials may have been shortened for the sake of brevity where the full testimonial contained extraneous information not relevant to the general public.
The views and opinions contained in the testimonials belong solely to the individual user and do not necessarily reflect our views and opinions. We are not affiliated with users who provide testimonials, and users are not paid or otherwise compensated for their testimonials.
The testimonials on the Site are not intended, nor should they be construed, as claims that our products and/or services can be used to diagnose, treat, mitigate, cure, prevent or otherwise be used for any disease or medical condition. No testimonials have been clinically proven or evaluated.
PRIVACY STATEMENT
We respect you and your privacy. Dogginz collects personal information needed to fulfill your order or reply to your message, but we will never sell, rent or trade any of your information with a third party. We will only disclose your personal information if required by law.
WHAT DO WE DO WITH YOUR INFORMATION
When you make a purchase from our store, as part of the buying and selling process, we collect the personal information provided, such as your name, address, telephone number and email address. When you browse our store, we also automatically receive your computer's internet protocol (IP) address in order to provide us with information that helps us learn about your browser and operating system.  We may also send you emails about our store, new products and other updates.
CONSENT
When you provide us with personal information to reply to a message sent from our contact from, complete a transaction, verify your credit card, place an order, arrange for a delivery, we imply that you consent to our collecting it and using it for that specific reason only.
THIRD PARTY SERVICES & PAYMENT PROCESSORS
Dogginz.com is hosted on Shopify & Carrd, Inc.  Your data is sent through Carrd & Shopify's databases and the general server application. They may store your data on secure databases protected via a variety of industry-standard access controls. Secure passwords, SSL encryption, disk-based encryption, firewalls, and other measures to protect your data. However, no company, can fully eliminate security risks associated with the transmission of personal information through online transactions, and you do so at your own risk.
In general, the third-party providers used by us will only collect, use and disclose your information to the extent necessary to allow them to perform the services they provide to us. However, certain third-party service providers, such as payment gateways and other payment transaction processors, have their own privacy policies in respect to the information we are required to provide to them for your purchase-related transactions.
Shopify uses third party payment processors to assist it in processing your personally identifiable payment information securely. Such third party processors' use of your personal information is governed by their respective privacy policies which may or may not contain privacy protections as protective as this privacy policy. Payments for our products are currently processed and managed using the third party vendor Stripe and PayPal.
We are not responsible for the privacy practices of other sites and encourage you to read their privacy statements.
SECURITY
To protect your personal information, we take reasonable precautions to make sure it is not inappropriately lost, misused, accessed, disclosed, altered or destroyed.
COOKIES
Like most websites, we use small bits of data called cookies stored on users' computers to simulate a continuous connection. Cookies let us 'remember' information about your preferences and passwords and allow you to move within our Service without reintroducing yourself within a browser session. Disabling cookies does not prevent you from accessing websites our website, but some features of our site may be degraded.
SOCIAL MEDIA
The website provides users the opportunity to interact and post content through various social media sites including, but not limited to, Twitter, Facebook, Google+, Instagram, Pinterest, Tumblr, foursquare, Flickr, YouTube and Vimeo. Your interactions with such tools, and any information you provide in connection with these interactions are publicly viewable outside of the website domain. Each social media site has its own privacy policies which may be more or less protective than this Policy. If you do not wish for this information to be disclosed, then you should not use these tools.
AGE OF CONSENT
By using this site, you represent that you are at least the age of majority in your state or province of residence, or that you are the age of majority in your state or province of residence and you have given us your consent to allow any of your minor dependents to use this site.
CHANGES TO THIS PRIVACY POLICY
We reserve the right to modify this privacy policy at any time, so please review it frequently. Changes and clarifications will take effect immediately upon their posting on the website. If we make material changes to this policy, we will notify you here that it has been updated, so that you are aware of what information we collect, how we use it, and under what circumstances, if any, we use and/or disclose it.
If our store is acquired or merged with another company, your information may be transferred to the new owners so that we may continue to sell products to you.
PURCHASING PROCESS
Each order sent constitutes an offer to purchase the products. Orders are subject to availability and to the Owner's discretionary acceptance.
Users must select the products and complete the check-out, after having attentively verified the information in the order summary. The order is placed by the confirmation of the same, and is subject to payment of the price, taxes and shipping and further payment fees indicated in the order summary.
The Order Processing Receipt does not constitute acceptance of the order. The order shall be confirmed at the time the Order Confirmation is sent by the Owner to the email address provided by the User. The Owner reserves the right to invalidate an order by informing the User within 5 business days of placing the order, using the email address associated with their purchase, about the unavailability of one or more of the purchased products. In this case, the Owner will refund the price and the delivery costs incurred by the User.
PRODUCT AVAILABILITY
Prices, descriptions, or availability of the products displayed are subject to change without notice. The photos posted are for representation purposes only and do not constitute a guarantee of the quality of the products.
ORDER COMPLETION
The Order is completed in accordance with the details specified on the order summary page and within the Order Confirmation email, subject to availability of the product ordered.
The Owner shall not be liable for damages suffered as a result of delays in delivery which are not dependent on circumstances foreseen by the parties at the time of the order confirmation.
DELIVERY
Deliveries are made during normal business hours at the address indicated by the User and in the manner specified in the order summary.
In case of failure to collect the products by the deadline set by the carrier, the products will be returned to the Owner, who will refund the purchase price but not the shipping cost. The Owner cannot be held responsible for errors in delivery due to inaccuracies or incompleteness in the completion of the purchase order by the User, for any damage occurring to products after delivery to the carrier company where arranged by the User or for delays in delivery attributable to it.
SERVICE
The Service is provided by the Owner "as is", with no express or implied warranty for accuracy or availability.
The Owner reserves the right to add and remove functionalities or features as well as suspend or even discontinue the Service, either temporarily or permanently. In case of final discontinuation, the Owner will do the utmost to allow Users to withdraw their information held by the Owner.
RESELLING
You are not permitted to reproduce, duplicate, copy, sell, resell or exploit any product or portion of dogginz products, or its service without the owner's express prior written permission, granted either directly or through a proper reselling program.
INDEMNITY
The User agrees to indemnify and hold the Owner and its subsidiaries, affiliates, officers, directors, agents, co-branders, partners and employees, as the case may be, harmless from and against any claim or demand, including without limitation, reasonable lawyer's fees and costs, made by any third party due to or arising out of the User's content, use of or connection to the Service, violation of these Terms, or violation of any third-party rights.
FORBIDDEN USE
The Products and Services shall be used only in accordance with these Terms.
YOU MAY NOT:
-reverse engineer, decompile, disassemble, modify, copy, or create derivative works based on Dogginz products;
circumvent any technology used by Dogginz, or its licensors to protect content accessible via it;
copy, store, edit, change, prepare any derivative work of, or alter in any way any of the content provided through Dogginz.com;
use any robot, spider, site search/retrieval application, or other automated device, process or means to access, retrieve, scrape, or index any portion of dogginz or its content;
rent, lease or sublicense Dogginz;
defame, abuse, harass, use threatening practices, threaten or violate the legal rights of others in any other way (such as rights of privacy and publicity);
disseminate or publish content that is unlawful, obscene, illegitimate, defamatory or inappropriate;
INTELLECTUAL PROPERTY RIGHTS
All trademarks, nominal or figurative, and all other marks, trade names, service marks, word marks, illustrations, images, product designs, or logos that appear concerning dogginz are, and remain, the exclusive property of the owner or its licensors and are protected by the laws in force on trademarks, patents, copyrights and by related international treaties.
NO REVERSE ENGINEERING
The products are offered only for the intended use described on the respective product pages. The receiving party (individual, corporation, employee,  contractor, third party) agrees to not copy, decompile, modify, reverse engineer, create derivative works, create derivative products, or otherwise study Dogginz in whole or in part. If you do not agree with these terms, do not purchase our products.
LIMITATIONS OF LIABILITY
The Owner, within the limits as currently set out by the applicable legislation, is liable for damage under contract and in tort to the Users or third parties only when such damage is the immediate and direct consequence, through willful misconduct or gross negligence, of the activity of dogginz.
The user expressly releases and exempts the Owner from any liability, to the extent permitted by the applicable law, relating to possible damage or claims of any kind, including direct, indirect, punitive, incidental, special damages related to loss of profits, loss of revenues, loss of data or costs of substitution consequential or anyhow connected to the present agreement.
RETURNS: We will replace any manufacturer defective items returned to us within 30 days of delivery. We will refund unused items returned to us within 15 days of delivery. To qualify for a refund, the product must be returned in its original condition, unused, and in its original packaging.   We do not accept returns or exchanges for any products after 30 days from the date of purchase. Items must be returned at the buyer expense and arrive within the 30 day return window.  Shipping costs are non refundable.  We are not responsible for packages lost in transit.  Email dog@dogginz.com to request help.
IMPORT FEES, DUTIES, AND TAXES: The buyer is responsible for all import fees, customs duties, taxes,  and charges related to the import of the item.  The buyer agrees to pay all subsequent taxes and charges related to the import of the item.
LOST OR MISSING SHIPMENTS:  Shipping insurance is provided for all shipments.  If your parcel does not arrive within 25 days after shipment, notify us immediately and file a claim.  All claims are subject to investigation. During the claims process, you will be required to submit a recipient statement/affidavit.  Without the recipient affidavit, the claim cannot be considered. A shipping insurance claim must be filed within 25 days for it to be valid. Any notification of a lost or missing shipment filed after 25 days of shipment will not qualify for insurance and Is subject to additional fees and shipping charges for another parcel to be sent.
DISCLOSURES & WARNINGS
Use at your own risk.
CHANGES TO TERMS
We reserve the right to modify these terms at any time, informing users by publishing a notice to this website.
Users who continue to useDogginz products after the publication of the changes, accept the new terms in their entirety.
QUESTIONS AND INQUIRY
If you would like to correct, amend or delete any personal information we have from you, register a complaint, or want more information, please contact us at dog@dogginz.com
Dogginz and Peece Out are trademarks of Peece Out, LLC.  All imagery, product designs, graphical designs, logos, and content displayed are © Peece Out LLC and subject to international copyright protection.  Dogginz products are patents pending.
Peece Out LLC does not provide liability insurance for the protection of individuals, groups, organizations, businesses, spectators, or others who may participate in the Dogginz line of products.
In consideration for your participation in Dogginz line of products, the individual, group, organization, business, spectator, or other, does hereby release and forever discharge Peece Out LLC, and its officers, board, and employees, jointly and severally from any and all actions, causes of actions, claims and demands for, upon or by reason of any damage, loss or injury, which hereafter may be sustained by participating in the Dogginz line of products.
This release extends and applies to, and also covers and includes, all unknown, unforeseen, unanticipated and unsuspected injuries, damages, loss and liability and the consequences thereof, as well as those now disclosed and known to exist. The provisions of any state, federal, local or territorial law or state providing substance that releases shall not extend to claims, demands, injuries, or damages which are known or unsuspected to exist at this time, to the person executing such release, are hereby expressly waived.
I hereby agree on behalf of my heirs, executors, administrators, and assigns, to indemnify Peece Out LLC, and its officers, board and employees, joint and severally from any and all actions, causes of actions, claims and demands for, upon or by reason of any damage, loss or injury, which hereafter may be sustained by participating in Dogginz line of products.
It is further understood and agreed that said participation in Dogginz and the Related line of products is not to be construed as an admission of any liability and acceptance of assumption of responsibility by Peece Out LLC, its officers, board, and employees, jointly and severally, for all damages and expenses for which Peece Out LLC, its officers, board and employees, become liable as a result of any alleged act of the parade participant.